How to Create a Wikipedia Page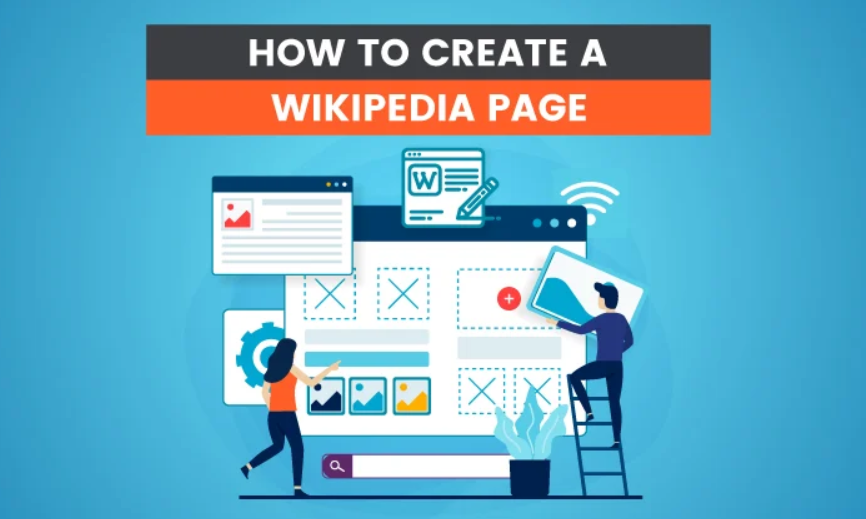 Wikipedia Page – Wikipedia is an ever-evolving, user-generated encyclopedia that allows users to add content, including pages, articles, and general knowledge.
There are currently 58 million articles on Wikipedia in over 300 languages. Topics span from pinball to Prometheus and everything in between.
If you're interested in creating a Wikipedia page for your business or marketing endeavors, you should know that getting a page added to the encyclopedia is notoriously challenging.
With a slew of guidelines that determine what content can be added to the site and the sheer effort of writing a highly-researched page about your business, creating a Wikipedia page is no easy feat.
To control what content does end up on the platform, Wikipedia has five pillars to guide creators, including:
Wikipedia is an encyclopedia.
Wikipedia is written from a neutral perspective.
Wikipedia is free, editable, usable, and distributable by all.
Respect and civility must guide interactions among Wikipedia editors.
The platform has no firm rules, only guidelines, and policies.
After a page is published, volunteer editors are deputized to edit and add to the page for the duration of its existence.
Although those guidelines may seem daunting, there are big benefits for marketers and business owners who manage to make the encyclopedia work in their favor.
What Are The Benefits of Creating a Wikipedia Page for Your Business?
The largest benefit of Wikipedia is its sheer size and reach. It is one of the most visited websites in the world, averaging nearly 2 billion unique visitors per month.
In addition to the size of its audience, the platform offers other benefits to marketers and business owners:
Earn traffic and drive backlinks to your site: Nearly 60 percent of SEOs say backlinks have a big impact on search rankings. When you become an active contributor on Wikipedia and start optimizing content, you can identify pages that are relevant to your audience. Search for relevant articles with broken links and those with missing citations, then use links to your site to update those pages. When you add appropriate links in the right spot, you'll score backlinks and drive traffic to your website.
Guide to your services and offerings: Given the structure of a Wikipedia page, you can provide readers with basic information like your brand story, location, and executive list. You can also include numbered lists of your services and offerings that allow interested parties a top-of-funnel interaction with your products. Through direct linking, you can then drive to the respective pages on your website.
Build credibility: While Wikipedia is not a valid source for scholarly research given its user-generated nature, there's no denying that people flock to the platform for information. By building a page for your organization on the site, you can further develop your credibility as an established company.
As we've discussed, publishing your page on Wikipedia can be a complex process. However, the benefits far outweigh the challenges.
How to Create a Wikipedia Page
1. Check to See If Your Business is Eligible to Create a Wikipedia Page
Not every business or topic is eligible for a Wikipedia page. According to Wikipedia, organizations must be "notable," which Wikipedia defines as having "verifiable evidence that the organization or product has attracted the notice of reliable sources unrelated to the organization or product."
Just because you have a business or a famous owner does not mean you are eligible to create a Wikipedia page for it.
It's also worth noting that you must disclose a "conflict of interest" if you write or edit articles about your own business or have someone else you know to do it for you.
If your organization or topic is notable (meaning reliable sources have written about your company), then you are eligible to create a page.
2. Create a Wikipedia Account
The first step in your journey to creating a Wikipedia page is registering an account on the platform.
While starting an account enables you to create pages, it has other benefits, including:
access a permanent user page where you can share a brief bio and a few photos
access a talk page where you can interact with other users
build your reputation as a Wikipedia author
customize the ways your pages appear
3. Contribute to Existing Pages
While Wikipedia is home to exclusively user-generated content, to build credibility on the site, you should contribute to existing accounts and pages.
There are a few reasons for this. First, the most common way to create a new page on Wikipedia is to use their AfC submission template. This template makes it easier to format your new page and submit it.
The problem? There's currently a three-month waiting period as each submission is reviewed manually.
However, you can get around this submission time. If you have an account with 10 edits and older than three days, you can just post a page directly without waiting for an AFC review. It doesn't mean it would stick as editors can remove pages, but it can get you through the review gridlock. It's also a great way to contribute to the Wikipedia community.
Start by editing existing entries regularly for clarity, factuality, and reliability.
As you engage more with improving content, you'll boost your credibility on the site, increasing the likelihood that your page will stand a fighting chance of getting published.
4. Verify a Page Doesn't Already Exist
Perhaps you're an expert on a particular niche topic you're certain no one has tackled in the expansive landscape that is Wikipedia. Maybe your business is just so cool that it deserves a Wikipedia page (and you meet their standards.)
Regardless of how unique you think your topic is, you should still dig to determine whether someone has already staked their flag on your topic. There's also a chance there are related topics you could edit or connect to your planned page.
Use the search bar to explore any pages that may be related to your intended topic.
5. Research Your Topic and Gather Resources
Before diving into writing your Wikipedia page, be sure to fully research your topic. Whether you're building a page for your business or developing an adjacent industry topic, be sure to include both internal and external sources to ensure that you are solidifying your reliability and notability in your draft.
Pay close attention to resources, articles, and publications you can use as resources. Wikipedia pages must have sources for information, so you'll want to make sure you can back up your claims!
6. Create an Outline
After you've gathered your research sources, build an outline for your page. Break your information into digestible sections that can be indexed through the site's table of contents that accompanies every page.
7. Write a Draft of Your Wikipedia Page
Take your time as you write your Wikipedia page. You want your content to be thorough, thoughtful, and helpful, providing searchers with what they want to know.
While Wikipedia pages can do a lot to benefit your marketing efforts, keep in mind that the true intent of the platform is encyclopedic and impartial. This isn't just good practice–taking the wrong tone or bragging about your business can get your page removed.
8. Upload Your Page Into the Article Wizard
Once your page is written (and you ask someone to review it for you), it's time to move over to the Wikipedia Article Wizard to draft your page. Don't forget your resources.
Before creating your page, Wikipedia shares this disclaimer: "The topic of an article must already be covered in reliable sources that are independent of the subject. These include journals, books, newspapers, magazines, and websites with a reputation for fact-checking. Social media, press releases, or corporate/professional profiles do not qualify."
Incorporating resources as citations in your Wikipedia page is vital to your page's success. Citations are the vehicle that drives searchers to trust the information you share on your page.
So make sure you use those resources to back up your claims.
9. Submit Your Article for Review
After you've written and proofed your page, it's time to submit your article to Wikipedia for review. This process can take a few months, especially if you have to use the AFC process.
As we mentioned earlier, publishing on Wikipedia is notoriously challenging; you may have your page or article rejected a few times before finally gaining approval.
10. Continue Making Improvements
Once you've completed your page and gained approval, it's not time to rest on your laurels.
Keep in mind anyone can edit Wikipedia pages, including your competitors or someone who doesn't like your brand. Although these edits likely won't last long, keeping an eye on your page is a good idea.
Plus, as your page gains traction on Google, you'll want to schedule regular updates and audits to ensure it provides the most relevant information about your offerings.